GSP
WORLDWIDE
Segmental and Friction saw blades
HSS segmental circular saw blades for metal cutting
Segmental saw blades are used for cutting metal in similar applications, such as solid HSS hacksaw. Segment saw is replaceable HSS segments are mounted, the body is the cheap chrome vanadium steel.
Friction Saws
Made of high quality special steels , hardened in accordance with latest technical findings. They have milled special teeth and are hollow ground on both sides in modern precision grinding machines. All Wolferal blades are piece-by-piece examined for hardness, side run-out and concentricity. They can be mounted on all high-speed machines at recommended peripheral cutting speeds of 80-125 m/s. The ideal speed for cutting iron and steel is 125 m/s. For aluminium and other non-ferrous metals, special designs are available.
Short video about HSS segmental saw blades and friction saw blades
The video showing HSS segmental saw blades and friction saw blades you find on channel YouTube, or in our video gallery.
Table of technical parameters of segments with segmental saws (CZ)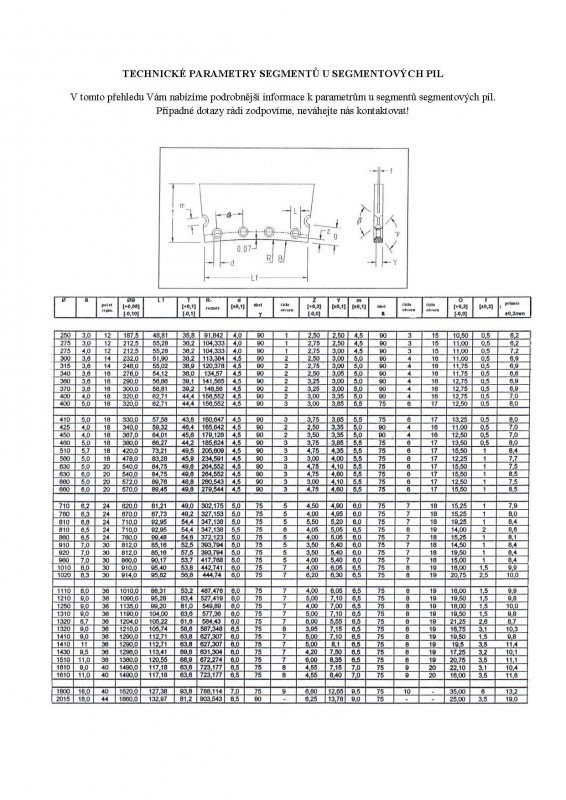 The download is in PDF format. To open, click on the image or link here.
Gallery - Segmental and Friction saw blades
These buttons will support and recommend our site to other Internet users. Thank you.