Design principle for the slot width of the screen prevent sand movement absolutely
For severely sandy wells (oil, water or gas), it´s better to use the screen with the slot widths are less than or equal to sand size of corresponding formations, which can be used to prevent sand movement absolutely.
δ ≤ 3/2D50
Note: δ – The slot width of the screen D50 – The median diameters of the sand from first sand washing before mining with sand control
Design principal for the slot width of the slotted liner used in bridge technology
The slot width of the screen must be calculated according to the sand size of the sand formation, when the screen without gravel is used in sand control.
δ = 2D10
Note: δ – The slot width of the screen
D10 – The slot width, 90% sand will get through the screen. Illustration: Sand will be prevented from further entering effectively, once a bridge formatted by the sand getting through screen. The formation of bridge is affected by the number of the sand particles, added value of the pair particle diameters is more than or equal to the slot width, and the sand migration pattern. Usually, this kind of screen is used in the wells with some extent sanding, coarse sand particles, smaller separation coefficient and rare workover in horizontal section.
Shape Design of Slotted Liner
Trapezoidal design
Reduce the rate of erosion of sewing caused by stream, improve self-cleaning, maintain the slot cavity open, and improve the recovery efficiency.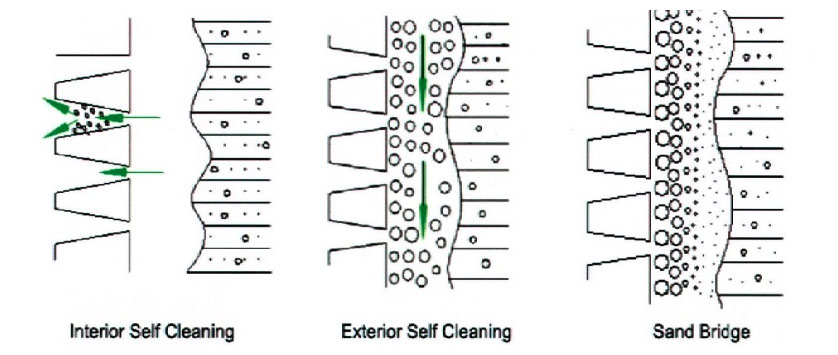 Principle of opting slot width and length for sand control:
Composite slot design
Take the rate of crudeoil seepage flow, flow resistence and lifetime into account, a combination of various slot. This slot is particularly design for complex reservoirs with different pressures. But the manufacture technology of composite slot is complicated and difficult.
Design of Slot Quantity and Open Area
In the premise of ensuring the intensity of the screen, the slots shall make sure there is sufficient flow area. The effective open area of the slotted liner is the liquid product each day / threshold value of reservoir sensitivity. Generally, open area is 2 % - 6 %.
α = δ Hn/Fs
Note: α – Open area, the value is the percentage (%) of slot area accounts for total surface area of liner, δ – Slot width, mm H – Slot length, mm Fs – Outer surface of slotted liner / m, mm2/m n – Number of slots / m, line/m
Slot Distribution Design
Mainly for determine the number of slot, stitching axial distance, type and direction. On the basis of production capacity, the proper slot distribution design will maximize the strength and stability of the slotted liner, and also maximize the economic benefits of slotted liner.
General Slot Distribution: